Expert Upholstery Cleaning Rockford IL
Since you don't walk on your upholstery with dirty shoes, you don't track the dirt and grime from outdoors onto your upholstered fabrics. So it is only natural that you also don't realize how heavily soiled your sofa, loveseat and chair can become.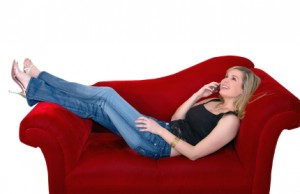 Dead skin cells, oils, dust, and other contaminants collect on your upholstery, though, and will only be removed through a thorough professional cleaning. Only highly trained professionals service staff that we employ will have your upholstery sparkling clean and ready for use, in just hours instead of days.
Your ABC Upholstery Cleaning Benefits
• Since we can perform services on all types of upholstery, including the most delicate natural fibers, you know that you are calling the company that can actually do the work.
• Our products and processes are safe for you, your children and your pets.
• Most fabrics dry in one to three hours, ready to use by you, your family, and your guests.
• Because our process leaves no dirt-attracting residues, your upholstery will not re-soil prematurely, as with most other cleaning processes.
• Since no one, anywhere, has more highly trained upholstery cleaning professionals, you know that your furniture will receive the specialized care it needs.
ABC Carpet Cleaning Fabric Protection provides an excellent soil and stain retardant that allows you to more easily remove common household spots and spills. While unprotected fabrics, especially delicate natural fibers, are particularly prone to premature soiling and permanent staining, ABC Carpet Cleaning Fabric Protection helps keep all of your upholstered fabrics stay CLEANER*FRESHER*LONGER.
EXPERT UPHOLSTERY CLEANING
ABC Carpet cleaning is IICRC certified in upholstery cleaning ,we use a 12-Step process:
Pre-Inspection
Fiber ID Test
Color Migration Test (bleeding)
Cushion Inspection
Shrinkage Test
Pre-Vacuum
Pre-Spot
Pre-Spray
Pre-Groom w/ horse hair brush and fine fabric treatment
Rinse w/ hot water extraction progress
Dupont Teflon (additional charges apply)
Final Inspection